"Song of the Second Moon" was based on a rhythmic pulse and incorporated tape manipulation and several Ondes Martenots. He predicted the seething sound that became associated with Jean-Jacques Perry and presaged the machine beat that Giorgio Moroder incorporated into his Donna Summer productions. It is also echoed in the 1962 UK single "Time Beat", which the BBC's Radiophonic Workshop made with George Martin. It was the sound of the future. Raaijmakers was years ahead of everyone else.
He first encountered electronic music in 1956 when Henk Badings came to NatLab to record music for a ballet production of Kain in Abel. Appropriately spurred, thoughts from Philips management turned to how this might be reframed in a pop context. Dick Raaijmakers received the file. "Song of the Second Moon" – originally titled "Electronic Rumba" – and a version of "Colonel Bogey" are the result.
A single with both tracks was pressed – 2000 copies were made. Raaijmakers adopted the name Kid Baltan for the project. He was known as NatLab Dik, so reversed the letters for that company as a recording artist.
However, the composer of "Colonel Bogey" objected to the radical treatment and the record never reached stores. Copies were distributed as promotional items by Philips to associates and customers. Then, in 1959, "Song of the Second Moon" appeared on the album The fascinating world of electronic music, which featured music attributed to Kid Baltan alone and jointly to Baltan and his collaborator Tom Dissevelt, a composer, multi-instrumentalist and jazzer who had recorded for Philips. During the years 1958 and 1959, Dissevelt became increasingly fascinated by Boulez, Webern and Stockhausen. Contact. Philips directed him to NatLab, where he soon began working with Raaijmakers.
Dissevelt was among the first – perhaps the first? – musicians from popular music to recognize the potential of electronics and integrate them into his universe. Later, in 1963, he recorded the electronic album Fantasy in orbitwhich was released in different sleeves for its mono and stereo editions.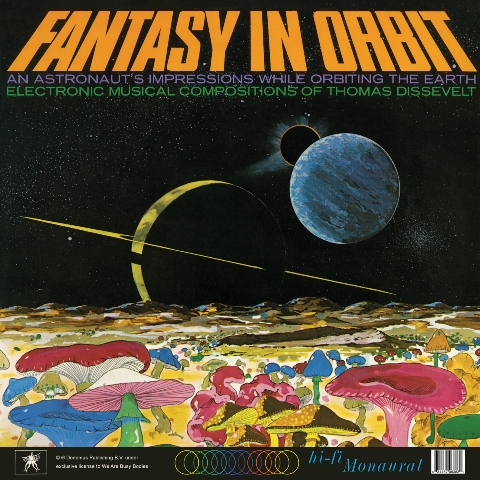 There is much more to the story of Kid Baltan aka Dick Raaijmakers and Tom Dissevelt than that. It was largely obscure until 2004, when Dutch label Basta released the incredible box set popular electronics which collected the complete works of ballet music by Raaijmakers/Baltan, Dissevelt and Badings. The fascinating world of electronic music and Fantasy in orbit were collected as a whole.
Both albums are being reissued as standalone vinyl releases. Fantasy in orbit became a double album – mono and stereo versions are housed in a single sleeve, each side bearing one of two front covers (pictured above left and bottom right). Flip the sleeve over for mono or stereo cover. Potential buyers should be aware that with both discs, what was side 1 has been mastered as side 2, and vice versa (the die numbers confirm this: what is incised in the runoff as A is in does B and it is the reverse on the other side). So what's labeled as Side One plays the music for Side Two, and vice versa for both albums. Flip the discs to hear what was originally intended. Neither album has liner notes (Fantasy in orbit has an insert reproducing the annotation from the back of the original album cover), a substantial omission given that these important albums require contextualization and explanation. The story of Kid Baltan aka Dick Raaijmakers and Tom Dissevelt is not told. Omissions are disappointing.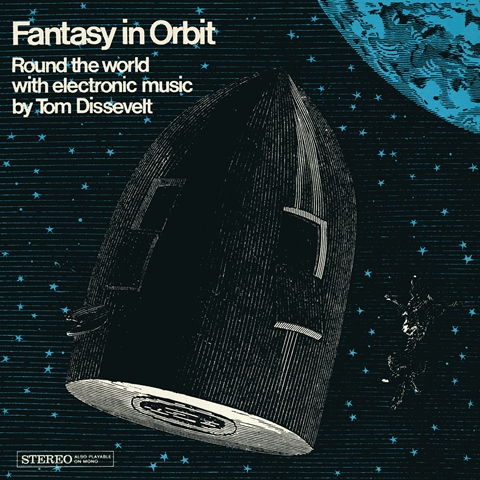 Despite the inclusion of "Song of the Second Moon", The fascinating world of electronic music is the more avant-garde of the two albums. "Pianoforte", attributed to Baltan alone, is akin to Pierre Schaeffer's musical investigations while the rest of the album explores how electronics can be incorporated into – and affect – standard musical arrangements. A terrific album.
Fantasy in orbit date four years later. Dissevelt's premise was to create the soundtrack for a fictional musical documentary about Earth as seen from space by an astronaut in orbit. This electronics reaches the outer limits of easy listening. Australia is represented by a version of "Waltzing Matilda", the Atlantic Ocean by a series of waves. Another great album.
The fascinating world of electronic music and Fantasy in orbit you have to be heard. Their reappearance is welcome. But it would have been nice if the issuing label had gone further in its efforts to reintroduce stores to these landmark records.